Home » What does news look like?
What does news look like?
Al-Jazeera has recently passed two milestones. The first, on 11 November was the launch of its new Balkans channel. The second, four days later, was the fifth anniversary of Al-Jazeera English. As Al-Jazeera extends its brand to a new regional audience, I find myself thinking about how a brand is created.
The anniversary was marked on the Al-Jazeera English website by a banner over the news. This took you to a page giving a retrospective look at the history of the channel. Uppermost was a video of its first ever broadcast.
It was an unusual register for a news clip. Given that it was five years old, it had no value as news. It was, instead, supposed to mark a point in history: the moment Al-Jazeera hit the English-speaking world. The retrospective feature was branding at its most self-congratulatory; the first broadcast was branding at its most self-conscious.
Whilst Al-Jazeera's self-image could be considered from a number of angles (political, ethical, social etc.), I want to nominate the aesthetic component of branding for consideration: the look, sound and feel of news. What follows is a string of screen-grabs from Al-Jazeera English and other news channels. The images are meant to foreground the aesthetics of news. They could carry us along without much commentary. That said, I will interject with various prompts as to what might be at stake.
The first thing we see of Al-Jazeera English. The channel is introduced: "Day one in a new era of television news… This is Al-Jazeera." Cue: launch into animation.
Cities flash up on a spinning globe: Washington, London, Doha, Kuala Lumpur. Looking closely at the still, we can make out a map of the world, reversed, in darker blue, in the background, making the planet appear translucent.
Something swirls into view from behind the camera.
The globe has made one full rotation. The golden shards come into formation over Doha.
It might be worth pausing here to point out various visual tropes: 1. The world seen as if from outer space. 2. The faint vertical bands over the map, indicating some kind of technical measurement (time zones?). 3. The motif swirling in three dimensions, as though unconstrained by gravity, and then coming together like an explosion in reverse. 5. Objects swooping into view from behind the camera, as though the point of vision is caught in the same three-dimensional space. 4. Translucent layers.
The sound track, meanwhile, is cinematic and euphoric, with the underlying pulse of a drum.
Within six seconds, we are back in the newsroom…
… But just before we arrive in front of the green screen, we catch a glimpse of the busy studio: desks, cameras, lighting equipment, people wired into computers. This is a standard trope. It is like a glimpse into the brain of station, a hive of activity and technology.
The two presenters then introduce a long series of live video links, strolling past the screens as they appear behind them.
Authority and trust are partly established at an aesthetic level. Likewise, professionalism is a matter of aesthetics as well as ethics. A broadcast has seconds to signal its place within a set of televisual conventions. This process of framing takes place prior to the direct framing of content. What are its implications?
One function of news aesthetics is to convince us that the newsroom is connected to many other parts of the world in real time. This way we feel connected ourselves. The elements of the clip that I've pointed out contribute to this task. They feed off a dispersed phenomenon in popular imagination: the visualisation of cyber-space. They commonly occur on other news channels too. Take, for example, the following screen-grabs from ITV news:
Uncanny similarity.
The point of vision darts between the images, as though in the same three-dimensional space. The same kind of audio track, too: urgent, pulsing drumbeat and a cinematic tone.
Likewise, BBC News:
A new addition: satellite waves expanding from an epicentre.
What does all this prove apart from a lack of imagination in news aesthetics? These are images of globalization, and as such they express a particular view of it. A great variety of models are at play: networks, scapes, flows, clouds, nodes, webs, waves and others. We could read the imagery very closely. But the general sense is, I think, quite easy to articulate. The imagery conveys a euphoric view of globalization: the whole planet is wired in; nowhere is beyond reach; globalisation is dynamic progression fuelled by technology.
This last point can be unpacked further. Technology is represented as a dynamic, enabling force. Here are some more frames from BBC News:
The beam soars over the Thames.
Technology also enters at the periphery of newsroom scenes, as has already been noted in the Al-Jazeera clip. The BBC has its own repertoire of such instances:
Blurred monitors in the background.
At the end of the news report, the camera withdraws very slightly and reveals the lighting rig and camera at the periphery of the frame.
All this imagery presumably arises out of some combination of strategic branding (self-conscious differentiation of a media brand), imitation and banality (graphic designers meeting deadlines). The considerations surrounding it are, I suspect, primarily technical, procedural and tactical. Various videos can be found online advertising newsroom graphics for sale. The aesthetic is sold as a technical facility (see below). However, the moment we consider the imagery's substantive implications, it appears far from neutral. On the contrary, it begins to look like bald ideology.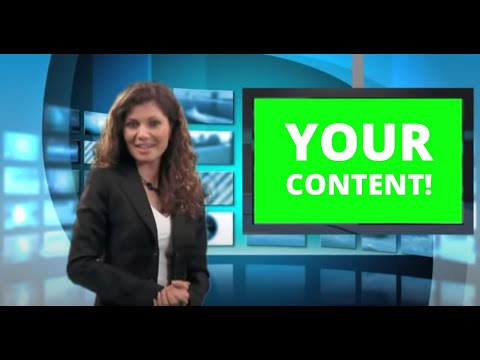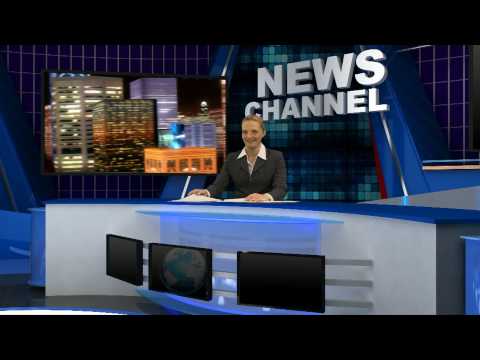 The concepts ingrained in news aesthetics (of globalisation, technology and other things) are themselves commodified, and integral to the branding process. There are possibly bones of contention within the subject, for example the presentation of news as entertainment. But it strikes me that there is much shared between organisations that are in other ways divided (e.g. between the BBC and Al-Jazeera). Hence news imagery and its commodification could easily escape scrutiny when they don't seem to bear directly on content.
To finish with, a clip of Bill Bailey carrying out a solid piece of qualitative analysis of news aesthetics. He says it all so much better.